#118 – 6 Zones of Working Genius!
4 months ago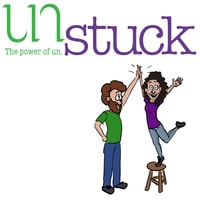 Episode Notes
Welcome to the Unstuck Institute Podcast!
This week we talk about the 6 Zones of Working Genius, a new work-based personality test that simple and easy to use from Pat Lencioni. We both took the test and guess what each other's strengths and weaknesses are before we review and debrief about the results!
Trying to stick to your goals? Download the free Unstuck LifeBook!
Got a question? Reach out to us on Instagram @Unstuck.Institute or e-mail us at [email protected]
The Unstuck Institute Podcast is brought to you by: Podcast Startup Course Gather Round la Cucina | Wellness Cucina