#79 – 3 Steps to attracting more customers!
9 months ago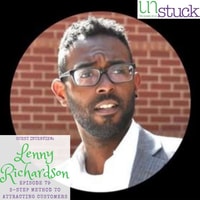 Episode Notes
Welcome to the Unstuck Institute Podcast!
This week we talk to Lenny Richardson. Lenny Richardson is the Co-Founder of the Advertising Company Affinity Agency as well as a Real Estate Advisor licensed and living in Northern Virginia within the Leesburg area. For Lenny, the ultimate goal is to reach a point in life when you can consistently grow yourself while growing those around you and optimizing for a "let's all win together" mentality. Beyond Real Estate and marketing, Lenny is an avid philosophy enthusiast, fitness lover, music aficionado, and book reader with an endless level of curiosity that's impossible to satiate.
Lenny's Instagram - @leviticusrich Affinity Agency's Free E-Book
Trying to stick to your goals? Download the free Unstuck LifeBook!
Got a question? Reach out to us on Instagram @Unstuck.Institute or e-mail us at [email protected]
The Unstuck Institute Podcast is brought to you by: Podcast Startup Course Gather Round la Cucina | Wellness Cucina