#96 – Casual Friday | Pivoting & Change of Course
7 months ago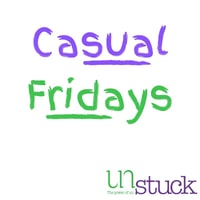 Episode 96 Notes
Welcome to the Unstuck Institute Podcast!
This week on Casual Friday...Josh updates about his online course Black Friday, Cyber Monday sales, and sets musical goals for December. Cel has a revised IG strategy in hopes of feeling more genuine when reaching out to prospects, and considers dropping some $$$ on a new biz coach!
Trying to stick to your goals? Download the free Unstuck LifeBook!
Got a question? Reach out to us on Instagram @Unstuck.Institute or e-mail us at [email protected]
The Unstuck Institute Podcast is brought to you by: Podcast Startup Course Gather Round la Cucina | Wellness Cucina