#146 – Hiring Freelancers to Get Sh*t Done
14 days ago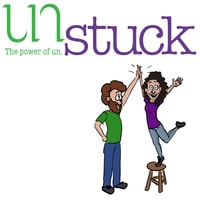 Episode Notes
Welcome to the Unstuck Institute Podcast!
This week Josh "edumacates" (is that a word?) us on his recent experiences hiring freelance contractors, both locally and on Upwork. If you can make more money doing what you do than doing "side tasks," then it's time to give some thought to hiring a freelancer to do short-term or ongoing work!
Trying to stick to your goals? Download the free Unstuck LifeBook!
Got a question? Reach out to us on Instagram @Unstuck.Institute or e-mail us at [email protected]
The Unstuck Institute Podcast is brought to you by: Podcast Startup Course Gather Round la Cucina | Wellness Cucina