#16 – How to Get Unstuck Part 3
2 years ago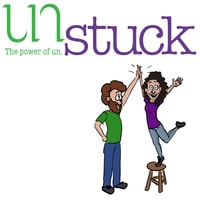 15 Episode Notes
Visualize your goals, but also write them down!
You're actually 42% more likely to achieve your goals if you write them down.
Make them super specific - check in with them often to make sure you're on track.
Use your vision board, or the background of your computer screen as goal reminders!
Learn more about the Unstuck Institute Here Check out Mind Meister and [Trello] (wwww.trello.com) for virtual organizer options
Find out more at https://unstuck-institute.pinecast.co