#76 – Casual Friday | It's Okay to Not be a Robot
9 months ago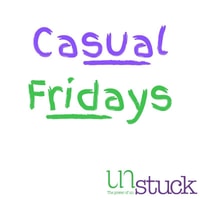 76 Episode Notes
Welcome to the Unstuck Institute Podcast!
This week on Casual Friday...Cel gets her things and takes a new approach to social selling. Josh is not a working robot and sometimes gets distracted by shiny things...and it's okay! Also, Josh forgot to mention it in the show...but he didn't have to fire his client.
Trying to stick to your goals? Download the free Unstuck LifeBook!
Got a question? Reach out to us on Instagram @Unstuck.Institute or e-mail us at [email protected]
The Unstuck Institute Podcast is brought to you by: Podcast Startup Course Gather Round la Cucina | Wellness Cucina