#93 – Find Your G.R.I.T with Meridith Alexander
7 months ago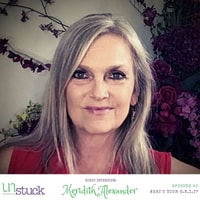 Episode Notes
Welcome to the Unstuck Institute Podcast!
This week we talk with bestselling author, resilience and peak performance coach and G.R.I.T. mindset expert, Meridith Alexander. 
We've all had bad days but what does a boulder falling in South America have to do with ditching a dead-end job and finding the future that you know you were destined for? For our next guest, the answer is EVERYTHING!  
Trying to stick to your goals? Download the free Unstuck LifeBook!
Got a question? Reach out to us on Instagram @Unstuck.Institute or e-mail us at [email protected]
The Unstuck Institute Podcast is brought to you by: Podcast Startup Course Gather Round la Cucina | Wellness Cucina